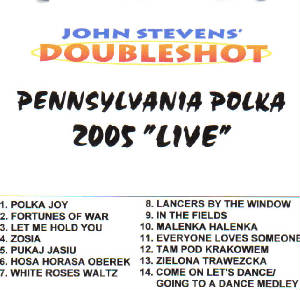 PENNSYLVANIA POLKA 2005 "LIVE" $13.00 (CD COMES IN A SMALLER THAN USUAL CASE)
TRACKS:
POLKA JOY
FORTUNES OF WAR
LET ME HOLD YOU
ZOSIA
PUKAJ JASIU
HOSA HORASA OBEREK
WHITE ROSES WALTZ
LANCERS BY THE WINDOW
IN THE FIELDS
MALENKA HALENKA
EVERYONE LOVES SOMEONE
TAM POD KRAKOWIEM
ZIELONA TRAWEZCKA
COME ON LET'S DANCE/GOING TO A DANCE MEDLEY
POLKA SPREE BY THE SEA LIVE! (2005) $15.00
TRACKS:
INTRO BY BERNIE GOYDISH
EVERYONE'S HAVING FUN
GREEN PARROT POLKA
POLKA PARTY
PENNSYLVANIA HILLS
CONCERTINA POLKA
TAKE MY HAND FOREVER(VOCALS BY EDDIE BIEGAJ)
LOVELY GIRL (VOCALS BY EDDIE BIEGAJ)
SPARKLING EYES OBEREK
POST OFFICE
LANCERS BY THE WINDOW (VOCALS BY LENNY GOMULKA)
IN THE FIELDS (VOCALS BY LENNY GOMULKA)
I MET THIS GIRL
BACK TO THE SEA
DOUBLESHOT THEME
GONNA HAVE A PARTY (2003) $15.00
TRACKS:
1. DOUBLESHOT THEME
2. GONNA HAVE A PARTY
3. HAVE NO FEAR
4. COME ON LET'S DANCE
5. LOVELY GIRL
6. WHAT IS THE WAY
7. ROLL OUT THE BARREL
8. LOVE YOU GIRL
9. TONIGHT'S THE NIGHT
10. FORTUNE'S OF WAR
11. WHEN I WAKE UP
12. WHEN WE MET
THE IMAGE OF YOU...IT'S ALL ABOUT YOU! (2002) $15.00
TRACKS:
1. THE IMAGE OF YOU
2. COME ON BACK
3. JOSHUA'S BIG BIRTHDAY
4. CZYGANEZCKA
5. SHE IS MY DESTINY
6. YOU ARE SO BEAUTIFUL
7. THREW MY HEART FOR A LOOP
8. BACK TO THE SEA
9. I'LL BE THERE
10. I MISS YOU
11. THE DAY OF OUR WEDDING
12. I WONDER WHY
13. PENNSYLVANIA HILLS
14. AIME (polka + oldie = poldie)
POLKAS FOR THE CHRISTMAS SEASON II (2002) $15.00
TRACKS:
WE NEED A LITTLE CHRISTMAS
THANKS FOR CHRISTMAS
THE MERRY CHRISTMAS POLKA (1-3 BY JERRY DARLAK AND THE TOUCH)
SANTA CLAUS MOUNTAIN
HAPPY HOLIDAYS
CHRISTMAS IN NEW ENGLAND(4-6 BY DENNIS POLISKY & MAESTRO'S MEN)
GOING HOME FOR CHRISHTMAS
CHRISTMAS FEELING WALTZ
I'LL BE HOME FOR CHRISTMAS
BLUE CHRISTMAS POLKA (7-10 BY WALTER OSTANEK)
THE SNOW IS FALLING
TUNING UP THE FIDDLES
YOU AND I
UNDER THE MISTLETOE (11-14 BY JOHN STEVENS' DOUBLESHOT)
LULAJZE JEZUNIU
I'LL BE HOME FOR CHRISTMAS (15-16 BY STEVE KAMINSKI)
YOU'RE THE REASON (2001) $15.00
TRACKS:
You're the reason
That's alright
White table
Polka jamboree
Alway's love me
Please take me back
Down at the dance hall
Happy birthday baby
Feather in a hat
Sweet bippy
Concertina polka
I need you now
Say yes
GOING TO A DANCE (1999) $15.00
TRACKS:
Going to a dance
Why'd ya leave me
Stormy clouds
Should have stayed single
Figure it out
Heaven felL last night
You & me
Polish picnic
Wedding day waltz
Bartender's
Remisniscing time
Post office
EVERYONE'S HAVING FUN (1997) $15.00
TRACKS:
Everyone's having fun
Please come back
Holding hands
Beautiful dark eyes
I can't tell my heart
Sweet lies
Green parrot polka
All my dreams
Turn back the years
Nie boi sie
Let me hold you in my arms again
Dancer's polka
At the polka spree
COME ON LET'S DANCE (1996) $15.00
TRACKS:
Come on let's dance
Dpubleshot theme
I met this girl
Sparkling eyes oberek
White eagle
Polish krakowianka
Happy birthday sweet 16
Polka 'til you drop
Polka party
Take my hand forever
Two lips
Painter's
Helena polka/oberek
Never gonna say goodbye
Honk style polkas
Raz dwa trzy
I fell in love (at the polka spree)
PLEASE PRINT OUT OUR ORDER FORM
order and have them ready for you.